Accept
Cookies help us deliver our services. By using our services, you agree to our use of cookies.
The Beat of a Different Drummer
Documentary DVD
The Beat of a Different Drummer

The Story of America's Last All-Female Military Band
The untold story of America's last all-female military band - the 14th Army Women's Army Corp Band is the subject of this documentary. The other military branches fielded all-female bands, but the WAC Band survived longer than any. Through four decades, the WAC Band offered a woman the rare chance to have a career as a professional musician.
The standards were very high for WAC Band members. They were not only elite musicians, they were representatives of the United States Army. Their audiences were diverse - they marched out recruits for morning drills; they performed for enthusiastic audiences in small town America; and they played for presidents.
The struggle for equal rights has been a familiar burden for women throughout history. But these women chose to follow their own dreams. They marched down a road that would usher in a new era for women in America. They marched to the beat of a different drummer.
78 minutes (NTSC DVD-Video, Dolby Digital 5.1 Surround)


"The Beat of a Different Drummer" won a prestigious Silver Telly Award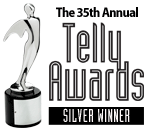 Watch a preview here



Versions